Elevate Your Branded Wall
Branded walls are a must have at any event nowadays! They make an impact and are one of a kind statement pieces. You can use these customized elements to bring your brand and product to life. With logos, hashtags and brand color schemes, spread brand awareness throughout every inch of your event! Read on below to find out some tips and tricks that we've used to elevate branded walls for clients.

FLOWER POWER.
We worked with MKTG and Don Julio for an after party event that they were hosting at the Tribeca Film Festival. They made a statement with their branded wall by embracing the classic power of flowers. Although their logo is present on the blue acrylic circle, what really makes this wall pop is the juxtaposition of the rustic wood slats with the vibrant and colorful floral accents. Coral charm peonies, free spirit roses, yellow spray roses, magenta bougainvillea, and yellow ranunculus are all tucked in cubes of the wall to add depth and animation. The colors of the flowers really work to emphasize the client's product that is also featured on the shelves.
Flowers never go out of style! They bring nature indoors and open up areas that normally feel small and closed in. For your branded wall photo moment, use full fresh florals to make your piece stand out. This photo-moment wall for a Ketchum and Pillsbury's Kings Hawaiian Crescent Roll press preview was composed of lush tropical foliage and florals. Guests loved this photo moment and took over Instagram with memories from the event.
Utilize non-florals to WOW guests!
Another way to heighten and elevate your branded wall is to utilize materials that guests may not have seen before. Unique style elements are always noticed and widely talked about. Use materials for the base of your wall that are unusual, such as mylar. It's an immersive piece that guests can take pictures in front of, all while representing your brand. Install your brand name or logo with an unusual element, as well, such as a custom neon sign. The lights will catch guests' attention and keep them talking. We loved the message on this rose gold mylar wall that gave us 70s disco dance club vibes.
The more unique your branded wall can be, the more guests will love it. At the Tarongino USA launch event, we built a full foliage wall with TONS of orange accents. The wall is grand and eye catching and also reflects the brand and the product. We worked with camellia branches, orange slices, whole real oranges, and crates to create an authentic feel for this product. Fresh fruits are featured in the product, so we also incorporated real elements within the wall. We stacked wooden crates in front of the wall to create depth and dimension. We made sure they were styled with foliage, oranges and product to create cohesive event décor.
Keep it delicate & simple.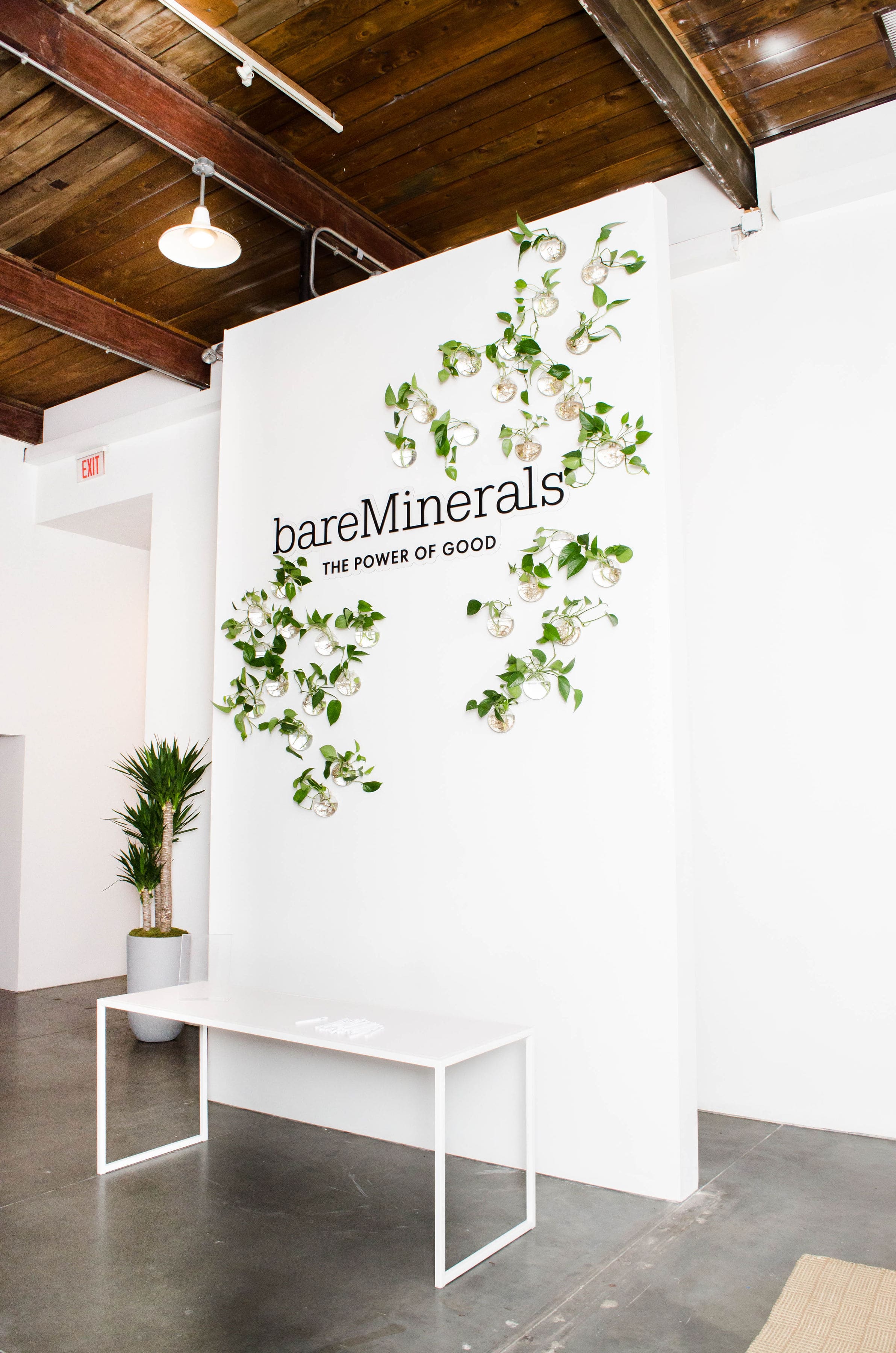 You can't go wrong with keeping your branded wall delicate and simple. It's a chic design style that is always popular. For the East of Ellie and bareMinerals Global Conference Dinner, we embraced the simplicity of greenery and fresh plants. Their wall featured lively green plants hanging in clusters along the wall. The stem lengths of the plants varied to create dimension. It was a simple design that felt very elegant and calming.
For this MKTG and Ketel One installation at WeWork, we kept it sophisticated with a wall that focused on greenery and negative space. Guests are less likely to be overwhelmed when your branded wall has strategically blank spaces. Along the wall and throughout the space of this install we used large and medium size plants to bring life into a very plain space. We used snake plants, string of pearl, ivy, pothos, wheatgrass, and more! The Ketel One logo was displayed on a moss board to bring the event all together.
These are just a few of the tricks and techniques that we like to use to heighten and elevate our branded wall designs. They can be used to elevate your event, your brand, and your overall company presence. If you have a vision, let's have fun with it and take it to the next level, together! Contact us today to get started.