6 Ways to Decorate for the Holidays
Although there's no snow on the ground yet, the winter holidays will be here before you know it! Whether you're looking to enhance your restaurant ambiance or elevate your corporate venue's holiday décor, B Floral has the capability to do all of that and more. During the holidays, cozy feelings and joyous energy are at an all-time high. Maximize these festive occasions by incorporating indoor seasonal décor that is just as elegant and sophisticated as your brand is into a hotel, restaurant or venue. Read on to find out some of our favorite pieces of seasonal décor to utilize this holiday season.
Use a Garland this Season
A classic holiday staple is the use of a garland, be it green, red, pink, or whatever color you may choose! Some of our favorite ways to use a garland are below:
There's really no way to go wrong if you incorporate garland into your holiday décor! Garlands are versatile design pieces that can be as robust or as minimal as you wish. You can affix them in a loose, draped style to convey a relaxed, casual environment or pull them taut to complement a more corporate, sleek environment. Allow the garlands to speak for themselves and set the tone for your holiday spirit this year.
2. Enhance Fireplace Décor
There's nothing cozier than snuggling up to a fireplace in the winter while sipping on a hot cup of cocoa and spending time with your family. As a brand, take into consideration guests' holiday wishes and aspirations to give them the experiences they're craving this holiday season. If you already have a fireplace to use at your disposal, heighten its charm with additional décor and accessories. Adorn your comfy nook with other seasonal elements like reindeer, stockings, or dreidels. If you don't have a fireplace available, create one! Bring in a frame and use candles to represent the flames of a fireplace to create a rustic scene that guests will immediately be drawn to. They'll never want to leave!
3. Embrace Classic Holiday Trees
It wouldn't be winter without the sightings of a million Christmas trees! Fir, Spruce, Pine, Cedar ...they all signify one thing: the holidays. We love going over the top with our trees and decorating them for every single holiday that winter holds. As guests walk into your hotel lobby and see a tall standing holiday-themed tree, they'll be delighted with festive joy and feel as if they're truly "home for the holidays." Through the use of varying color schemes, ornaments, presents and other accouterments, the trees in your corporate space can evoke even the tiniest glimmer of joy from the grumpiest grinch this season.
4. Brighten Spirits with Lighting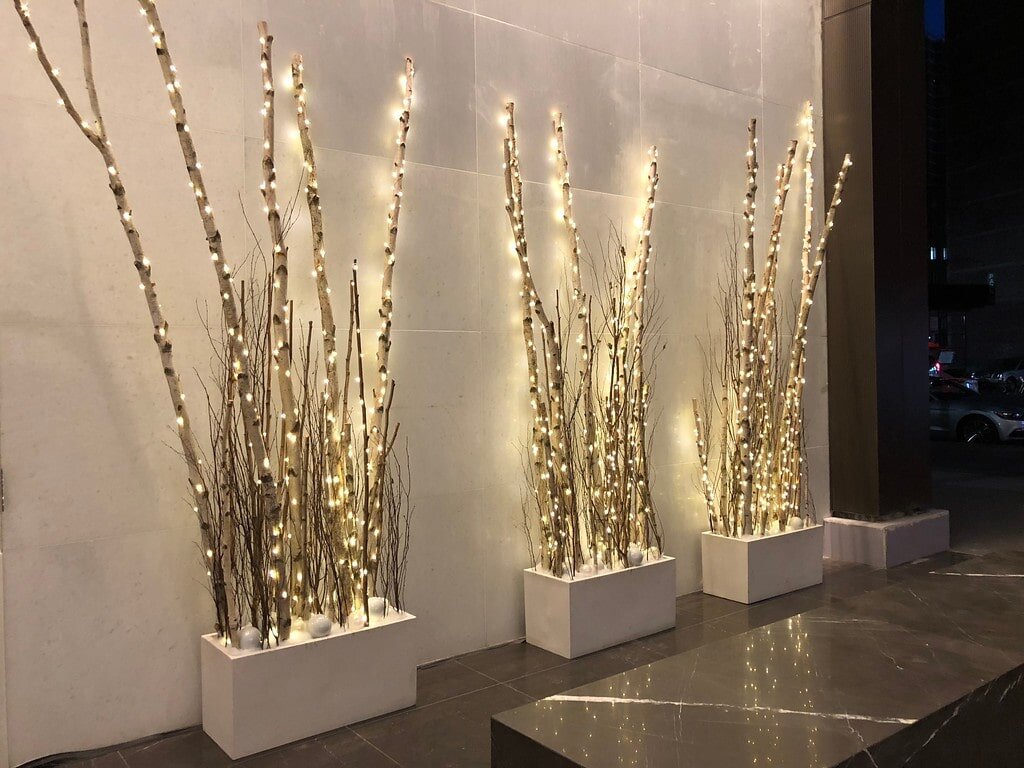 One of the best ways to liven up the ambiance or atmosphere of public or corporate spaces is to literally light it up! By adding traditional Christmas lights to branches, arrangements, walls, trees and more, the mood of an entire room can be lifted! Lighting can be added to a multitude of design elements, so the possibilities truly are endless. It's no longer grouchy commuters and business people trying to get to their destination as fast as they can, but it is now curious commuters and business people willing to stop and smell the gingerbread.
5. Utilize Traditional Holiday Tablescapes
At some point this holiday season, everyone will find themselves around a table for at least one occasion. Take your holiday party or corporate luncheon to the next level this year. When inviting employees or clients to a holiday meal, ensure that it will be one of the most festive and heartwarming experiences they have all season. The minute your guests sit down at the table, transport them to a holiday oasis. Utilizing winter elements at your tablescape is a fun way to incorporate the season and invite guests to share their experiences with others: pumpkins and gourds for the fall, pinecones, and ivy for the winter! Make your tablescape as simple or elaborate as you'd like; either way, your guests are guaranteed to enjoy.
6. Add Seasonal Walls and Photo Moments
If you're looking for a design element that is exaggerated and extraordinary for your next seasonal décor or event, a holiday wall or photo moment may be the best choice! Placed in a lobby or used as an entrance to a party, a wall or photo moment can leave a lasting impression on your guests that will encourage them to come back to your brand for more engagement in the future. We love using seasonal elements, such as branches, greenery, ornaments, trees, presents and more in our seasonal walls and photo moments. Guests love the wintry design mix and are always looking to interact with the large-scale design pieces. They're larger than life and unusual elements that attendees are not always used to seeing!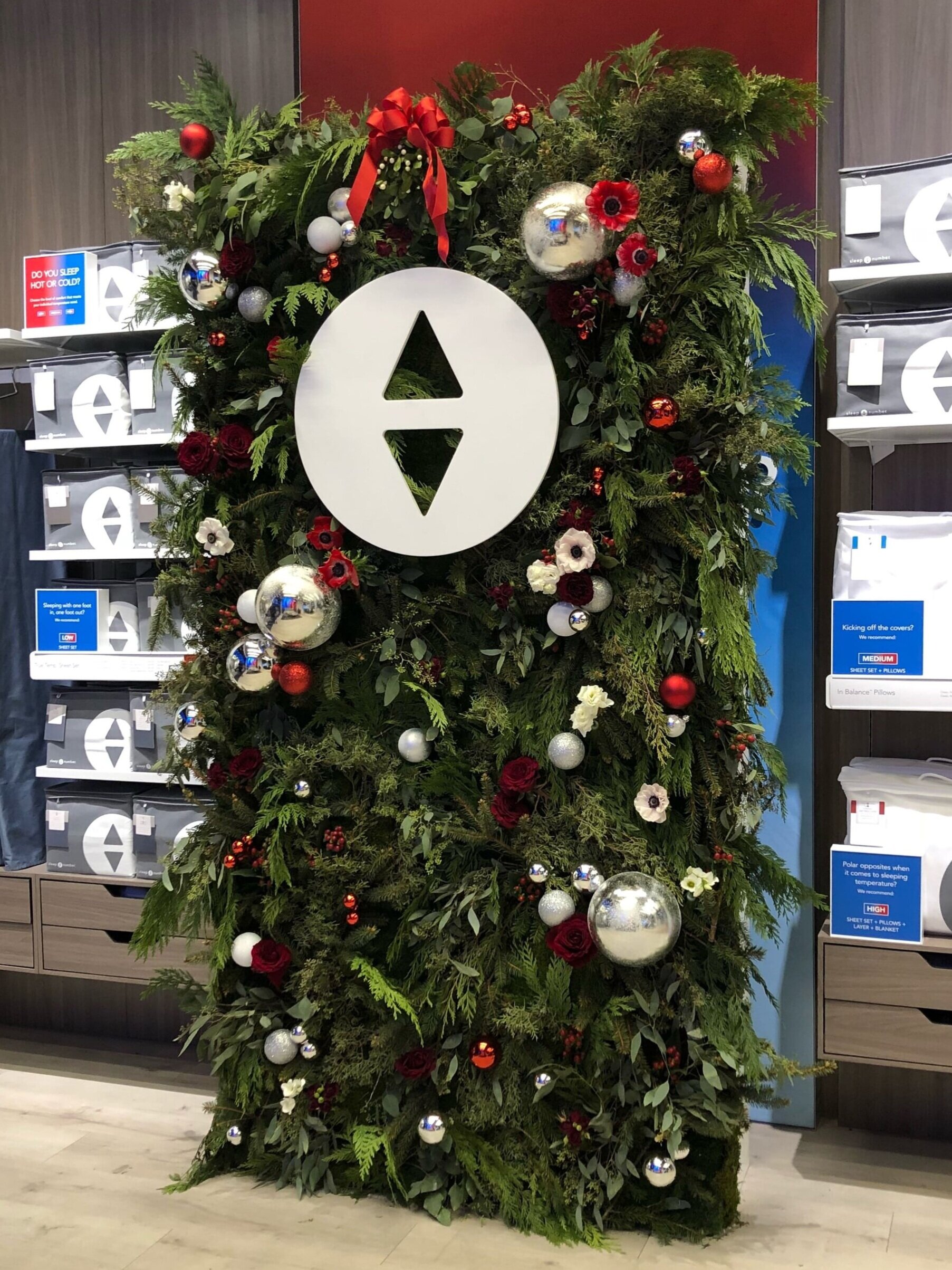 Contact B Floral to Start Planning Your Indoor Seasonal Décor
Whether you're looking for something over the top or something more subtle, there are options for all design preferences. No matter what type of design element you're considering for your indoor seasonal décor, it is sure to make an impact on your guests. Contact B Floral today to start planning your corporate indoor seasonal décor. The most wonderful time of the year will be here before you know it!